Greenland for $1.99
One recent summer, authors Richard Starks and Miriam Murcutt were seeking a different travel experience in a place that had not yet been 'discovered'. So they decided to head for Greenland. They were not planning to write a book about their journey, but they found Greenland so intriguing they felt compelled to capture some of what the country has to offer.

Greenland is an easy country to explore on your own. There's no need to join a group. In fact, you're better off without one, because only then can you experience the haunting isolation of Greenland's painted towns as well as its empty tundra, fjords, icebergs and crenelated glaciers.

This short e-book – illustrated by more than twenty photographs – is the story of the authors' journey inside the Arctic Circle. As a reader, you can walk with them over the Greenland ice cap, touch the world's biggest and fastest-moving glacier, hike along the Arctic Circle Trail, hear sled-dogs yowl and watch whales surface near drifting icebergs, as well as listen to the Inuit talk about the future of their country.

All for just $1.99 - either on your Kindle, or on a tablet or other device that has a free (from Amazon) Kindle app.
Early reviews of Greenland for $1.99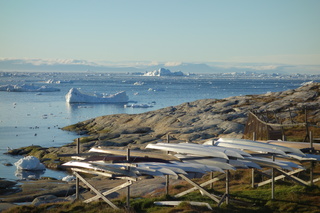 "A thoughtful and detailed description of a journey into fairly unchartered territory… The authors' sense of adventure and straight-forward writing style left me with a desire to pack my bags and make the trek to Greenland." - Megan Barker Bowen, amazon.com reviewer

"Starks and Murcutt spend around a month in Greenland. Their journey commenced with them flying into Nuuk, and spending time there before travelling to Kangerlussuaq, Sisimiut, and Ilulissat. Their travels included hiking sections of the Arctic Circle Trail…. The book contains some photographs which I enjoyed seeing and which complemented the narrative well. I particularly enjoyed the images of colourful, picture perfect villages…. I found the book intriguing and it has opened a desire in me to know more. But, after all, isn't that what all good books do?" - Jodie, amazon.com reviewer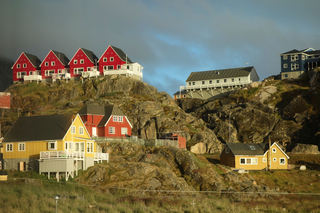 "I've never been to Greenland, nor am I likely to go there, so I really enjoyed this travelers' account. Starting with the basics (size, population, climate) and stitching in more facts as the author begins the journey there by air draws the reader into the subject. Then comes the account of the Arctic Circle Trail, illustrated with photos and maps, and the trip to the stunning Kangia fjord (a UNESCO World Heritage site). The background to this book is global warming but the foreground is the travelers' experience." - Michael, amazon.com reviewer

"The authors tell the story of their travels to Greenland, imparting geographical and historical facts of the country and the people, and figures regarding populations (amazingly small), the sizes of things such as glaciers (amazingly gigantic) and the icecap, and observations on global warming in a relaxed but well-written way that made for very easy and interesting reading. The authors' descriptions are such that I could "feel" the cold and "see" what is certainly awesome scenery….. I recommend this book to any armchair traveller, and I'll be reading the authors' other books too!" - Shannon, Goodreads reviewer
You can hear an author interview about Greenland for $1.99 on TravelTalkMedia, an online and national broadcast news and entertainment program.