Lost in Tibet - the story and the reviews
In November, 1943, at the height of World War II, five young American airmen were flying a treacherous supply route known as 'the Hump'. They anticipated a routine flight from Kunming in China back to their base at Jorhat in India. But high over the Himalayas, a violent storm erupted and blew their plane hundreds of miles off course.

When their fuel ran out, the men were forced to bail out. They thought they would parachute into the Assam valley in India, a drop of about 20,000 feet. Instead, within seconds of leaving their plane, they slammed into the face of a mountain. To their astonishment and horror, the men had 'landed' deep in the mountains of central Tibet.

Miraculously, all five of the men survived. But their ordeal was just beginning. After scrambling over some of Tibet's most formidable mountain passes, they reached the 'forbidden city' of Lhasa, then ruled by an eight-year-old god-king – the 14th (and current) Dalai Lama.

When they entered the city, on December 15, 1943, the five airmen joined the ranks of the first few Americans ever to see the Tibetan capital – a full two years ahead of Heinrich Harrer, author of Seven Years in Tibet.

Their appearance in Lhasa, however, was not a matter of choice. Instead, the men were marched to the city by representatives of a suspicious Tibetan government who thought the Americans were part of a long-anticipated Chinese invasion.
While in Lhasa, the five airmen were taken under the wing of the Chinese Mission, but when angry Tibetans tried to stone them, they found shelter at the British Mission instead. Caught within the competing triangle of Tibetan, Chinese and British interests, the men were drawn into the political turmoil that even then was swirling around Tibet's effort to remain independent.

To avert an international incident (and in fear for their lives), the men were forced to leave Lhasa in a hurry. They set out, in the middle of winter, on a perilous journey across the Tibetan plateau – a journey that soon became a desperate race against time.

On one level, Lost in Tibet is a compelling, true-life adventure involving physical hardship and constant danger. But it also depicts the life and culture of pre-Chinese Tibet – and it examines the forces that led to the Chinese invasion.

At the time they occurred, the Americans' adventures attracted widespread interest. Accounts of their story appeared in Collier's magazine, Newsweek, Readers' Digest and the New York Times. Their story was also the subject of a CBS radio drama-documentary that was broadcast on February 4, 1944. And the publishers of Captain Aero turned their adventures into a lurid comic strip. However, until now, the airmen's story has never been given the attention or weight it deserves.

Lost in Tibet has been well reviewed – by readers and critics alike. It has recently been released in a new paperback edition, and has been translated into six languages. It is also available as an ebook for Kindle and Nook.
"An entertaining and well-written book... The authors tell this story with an exemplary understanding of the issues, and prove themselves masters of the Himalayan terrain... An amazing story, still remarkably fresh 60 years after the fact." - National Geographic Adventure.

"A well rendered story, with plenty of twists... For fans of The Burma Road and Into Thin Air, and other tales in the man-vs.-the-elements vein." - Kirkus Reviews.

"The story is marvelous, a page-turner for readers enamored of true-life adventure tales..." - Climbing magazine.

"Authors Starks and Murcutt absorbingly recount the political conquest of Tibet through the story of these five young men's unwitting embroilment in an international incident, and their extraordinary journey home." - Publishers Weekly.

"A gripping, detailed account of a time and place that most Americans have never glimpsed." - Joint Forces Journal.

"An intriguing tale... that keeps the reader riveted to the story. A 'must read' for WWII enthusiasts." - American Legion Observer.

"This is a 'must-read' for mountaineers and history buffs alike - a true adventure in high and unexplored lands." - Amanda Daflos, former Director, Special Projects, International Mountain Explorers Connection.

"This is a fine story of courage and diplomacy that presents invaluable information on a little-known theater of WWII and insight into the Tibet-China political situation." - Booklist.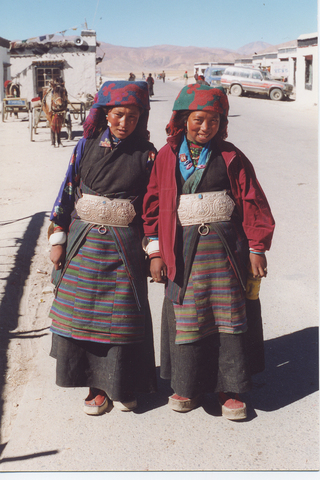 "This book will be fascinating to anyone even casually interested in the politics of my country." - Losang Gyatso, Tibetan artist and actor in Martin Scorsese's film, Kundun.

"Lost in Tibet is a superb recounting of a truly unique high adventure... Could not put it down... Unique and engrossing, with a wealth of cultural and historic detail... Outstanding!" - The RebeccasReads eZine, which gave Lost in Tibet its 'Best in History' award for 2004.

"The authors tell this engaging tale clearly, skillfully keeping its different elements in balance while keeping a focus on the plight of the airmen... From their travels to mountainous areas in Asia, they bring a special sense of the five airmen's struggles to survive in the Tibetan terrain at the beginning, and again at the end, of their incredible story." - Midwest Book Review.

"This is a thoroughly researched and documented true story that holds the reader's interest and is difficult to set aside. I highly recommend this fascinating, well-written and superbly documented book." - Peyton Walmsley, Editor, China-Burma-India Hump Pilots Association.

"A well-written and interesting tale... A good story that's an interesting footnote to world history." - Associated Press.

"This story drew me in right from the beginning. It takes the culture and politics of pre-Chinese Tibet and mixes them with the true-life adventures of five young Americans." - Tamdin Wangdu, Executive Director, Tibetan Village Project, and Tibetan exile now living in the United States.

"Impeccably researched and well paced." - Internet Bookshop Italia.

"The recreation of these airmen's experiences is well told, easy to read, and so realistically portrayed that the reader shares their experience. This is a welcome addition of a previously unknown experience of individuals of the Second World War." - MyShelf.com.

"Authors Starks and Murcutt provide an enlightening tale of survival and political expediency... Lost in Tibet is revealing for its insights into the vagaries of international politics, the challenges provided by one of the war's most neglected theaters, and the brave crews who flew the challenging 'Hump' supply route." - WWII Aviation Booklist.

"Lost in Tibet is an engaging tale, written in a light and humorous manner and therefore very appealing for the standard non-fiction reader. It is a refreshing book on the culture, habits and the nature of the Tibetan people... and offers an easy-to-comprehend picture of the Tibetan nation before 1959" - Phayul.com.

"Starks and Murcutt have crafted a nonfiction adventure that would make a good action film... Lost in Tibet vividly weaves contemporary political intrigue with five American airmen's mission to return to base, one making the other more vivid, even as it provides insights into a once-secret world." - Daily Camera.

You can hear an author interview about Lost in Tibet on TravelTalkMedia, an online and national broadcast news and entertainment program.