A Room with a Pew - in more detail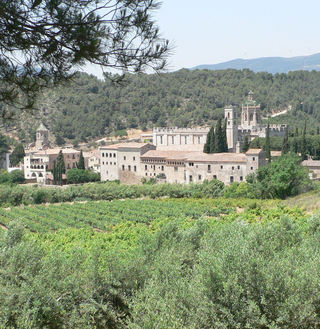 ONE RECENT SUMMER, authors Richard Starks and Miriam Murcutt traveled in an arc through Spain, starting near Barcelona in the northeast, then dropping into Andalucia – with its Moorish cities of Cordoba and Seville – and finishing on the sandy beaches of the Costa del Sol near the Mediterranean port of Malaga.

So what made their journey so special?
Only the fact that they stayed exclusively in some of Spain's ancient monasteries - Benedictine, Cistercian, Dominican, or Trappist - where they were able to sleep in the cloistered silence of a hospederia, disturbed only by the toll of a bell summoning the monks or nuns to prayer.

As the authors quickly discovered, Spain's ancient monasteries are fascinating places in which to stay. Most were built in the 10th, 11th and 12th centuries so they are ripe with history and rich with the art they have acquired over the centuries.
In many of the monasteries, the authors were given their own keys so they could come and go as they pleased, using the chapels, libraries, museums – and even the kitchens, too.
This was not a privilege extended to them alone; instead, these are facilities that are available to anyone who wants to stay overnight.

The monks and nuns the authors met were sometimes cloistered, but it was always possible to mingle with these religious recluses. The authors were able to discover what initially prompted these once-ordinary people to enter the religious life – and what keeps them there, locked inside a closed community that's tied to an endless cycle of prayer.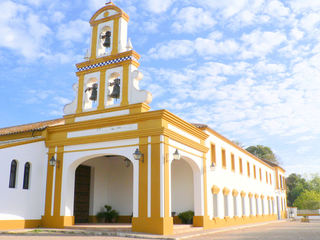 Among the monasteries where the authors stayed were: the tiny community of nuns rattling around in the vast spaces of the convent of Vallbona de Los Monges; the Trappist monks at Las Escalonias, who worked hard in a laundry to pay their bills, but still rose at 3.00 a.m. to come together to chant and pray in a converted barn; the Dominican monks at Santo Tomas – in the walled city of Avila – who had amassed an astounding collection of oriental art through their missionary work in the Far East; and the young nuns - originally from Kenya, but now in Marchena - who prayed all day, then relaxed in the evening by dressing as men, dancing to music, and cracking a few irreverent jokes.

In each of the monasteries, the authors were given a warm and courteous welcome - in keeping with the Rule of St. Benedict (the founding father of Western monasticism), which dictates that all strangers must be taken in and made to feel at home – a tradition that stretches back more than 1,500 years.
The authors were also welcomed because Spanish monasteries now rely on the revenue they earn from passing travelers and would-be pilgrims. They no longer have the patronage and support of rich nobles, kings and princes, so now they must make their own way in a world that has become largely indifferent to their devout way of life.

What better solution than to rent out the hundreds of rooms that once were filled by monks and nuns, but that otherwise would now stand empty.


A ROOM WITH A PEW is a travel book that gives an account of the authors' journey. It is not a religious book. Nor is it a guide book. But it does contain a chapter that allows readers to plan a similar journey of their own - staying overnight in some of Spain's ancient monasteries.
You can download a free copy of this chapter from our Free books page on this site.




YouTube video
Watch a short video about A Room with a Pew and the journey through Spain the authors took when researching their book.