Richard Starks & Miriam Murcutt - authors of fiction and non-fiction books
AS WRITERS, we prize words. For example: fopdoodle - an olde English word that means 'foolish man'. Perhaps you know a fopdoodle. Most of us do.
It's our Word of the Month - the one that's earned the parking space closest to the front door, and while it's no longer in use, it is, in our view, well worth bringing back to life.
We highlight words like these on the WordPlay page on this site. Not all the words we feature are forgotten classics. Some are foreign - like nomohoni and tingo - which we discovered while researching some of our books; while others are street-slang and therefore inventive. But all are intriguing and worth checking out.
WE ARE former journalists who've written (between us) ten books. They're an eclectic mix - both fiction and non-fiction - but our books have a proven ability to entertain. Two have won awards, four have appeared on Amazon category bestseller lists; and one was snapped up by a producer who planned to turn it into a movie.
Altogether, our books have been translated into six languages, and at last count published in nine countries (we're big in Assam).
We love to hear from readers, and for a limited period we are offering FREE copies of some of our books to people willing to post a review (we'd like to reach more readers). You can get in touch using the Contact page on this site, email us at starksmurcutt@msn.com, or use the direct email link at the bottom of this page.
Just published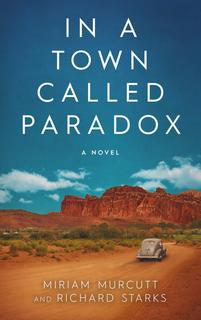 "I WASN'T looking for Marilyn Monroe when I bumped into her, even though I knew she was in town filming River of No Return…"
So begins the novel, In a Town Called Paradox - set in Utah in the 1950s, when the Big Five Hollywood studios were lured to that state by the fiery red-rock scenery that formed the perfect backdrop to the blockbuster movies they planned to film.
Corin Dunbar - banished to live with her aunt Jessie, an obsessively religious spinster who runs a failing cattle ranch near Paradox - hates her new life, until the arrival of Hollywood turns the rural backwater into a playground for glamorous stars like Marilyn Monroe and Rock Hudson.
Seduced by the glitz of the movies, Corin finds work with the studios, but after a brush with the casting couch, channels her growing ambition into saving the ranch—the jewel of the Dunbar family for three generations.
When Corin falls for Ark Stevenson - a charismatic stranger who was raised by missionaries in the Amazon jungle (then drawn to Paradox by his fascination with the Westerns that are filmed there) - her future seems bright. That's not the outlook facing Yiska Begay, a Navajo Indian and convicted murderer who's on the run near Paradox.
These very different lives unexpectedly collide when a tragic accident wrecks Corin's dreams and forces her to make an agonizing decision that will change the course of her life.
Told mainly by Corin—now a middle-aged woman still haunted by this watershed moment—In a Town Called Paradox is a "compelling read" that "redefines the meaning of love" as it asks the question: If each of us has a life story, who decides how it unfolds - and how it should end?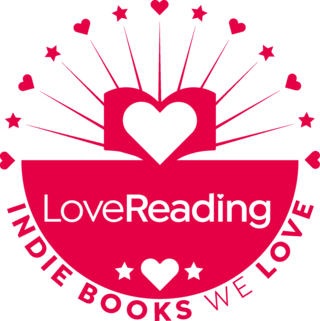 In A Town Called Paradox has been named an Indie Book We Love by LoveReadingUK, Britain's top book-recommendation website, where it is one of their Featured Books.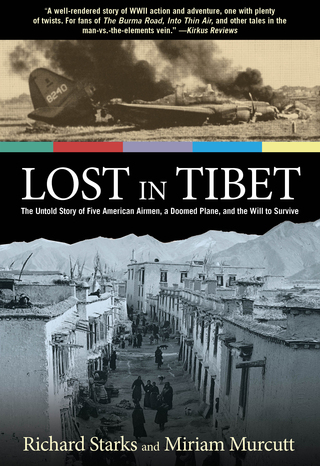 "AN INCREDIBLE true story…"—Midwest Book Review.
"Superb… could not put it down... Outstanding!"—The RebeccasReads eZine, which gave Lost in Tibet its 'Best in History' award.
"An amazing story, and an entertaining and well-written book..."—National Geographic Adventure.
LOST IN TIBET (now in its third printing) tells the true story of five young American airmen who - in 1943, at the height of World War II - were flying a dangerous supply route over the Himalayas known as 'the Hump'.
Caught in a violent storm and blown hundreds of miles off course, they were forced to bail out just seconds before their plane ran out of fuel. To their astonishment, the airmen landed in the heart of Tibet – at the time, a tightly sealed land that was deeply suspicious of foreigners.
The five airmen were taken to Lhasa, where they were drawn into the political turmoil that even then was raging around Tibet's fight to be independent from China.
To avert an international incident, the five men were forced to set out in the middle of winter on a perilous journey across the Tibetan plateau - a journey that soon developed into a desperate race against time...
"Authors Starks and Murcutt absorbingly recount the political conquest of Tibet through the story of these five young men's unwitting embroilment in an international incident, and their extraordinary journey home." - Publishers Weekly.
"ENJOYABLE AND INFORMATIVE ... and it's cracking good fun."—January magazine, which gave the book its 'Best of Non-fiction' award.
"Vivid storytelling…. and beguiling questions about the risks of adventure travel…"— Adventure Travel News.
"A pocket-sized delight, full of complex and delightful characters… with easy-flowing prose."—The List.
WHEN AUTHORS Richard Starks and Miriam Murcutt were commissioned by Geographical – the magazine of the Royal Geographical Society in London – to travel the length of a strange river in Venezuela, they had no idea of what they were undertaking.
The Casiquiare - once the subject of great controversy – is like no other river on the planet, since it joins two otherwise-separate river systems, the Orinoco and the Amazon, by apparently flowing up and over the watershed that divides them. This should not be possible.
In their travelogue ("a must read… that swept me away"—Adventure World magazine), the authors give an account of their journey, including their brush with a tribe of Yanomami Indians and a confrontation with FARC guerrillas.
They also explain the Casiquiare's seeming ability to flow uphill. And they explore thoughts and ideas that relate to the thrills and stresses of adventure travel.
"What a read! As experienced authors of several books and articles, these writers know their subject and their craft. They write with humor and skill in a way that keeps you turning the pages." - Bonnie Neely, Editor, Real Travel Adventures International magazine.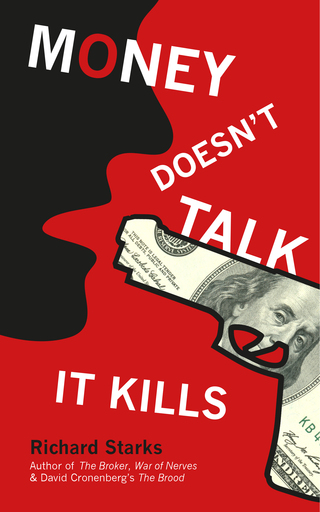 MONEY DOESN'T TALK, It Kills is a fast-paced crime thriller about money and the twin emotions – fear and greed – that surround it.
"…a fast-paced suspense-filled thriller…"
"…a pearler of a story..."
"…exciting scenarios and great set of characters…" – Amazon reviewers.
MARK SLATER is a university professor turned stock-market analyst – 46 years old, happily married, with two kids in college.
From a fellow analyst, he learns of an upcoming takeover that would allow him to make a lot of money, but to cash in he would need to break the law. That's something Mark is sure he'd never do, but when he meets a college friend he hasn't seen in twenty years, he succumbs to temptation and commits the crime of insider trading.
Too late, he realizes he has made a terrible mistake. He just wants his old life back; but his college friend blackmails Mark into taking part in the theft of ten million dollars, drawing him into a violent criminal world.
Mark's only way out is to return the stolen millions. But first he must outwit his blackmailer – and then overcome the unexpected opposition of his wife.
"I really liked the story, which is a twist on Strangers on a Train... It was suspenseful and hard to put down. This is a good read and well worth your time." - L. Levy, Amazon reviewer.
A ROOM WITH A PEW (featured in the New York Times) is for readers planning to visit Spain and looking for somewhere unusual to stay.
"Captivating…" – ForeWord.
"Easy to read… made me laugh out loud…" – Goodreads reviewer.
"Unreligious, but not sacrilegious…" – A Traveler's Library.
ONE SUMMER, authors Richard Starks and Miriam Murcutt traveled through Spain - from Barcelona to Malaga - staying only in ancient monasteries.
As they quickly discovered, these intriguing places are ripe with history, art and culture, rarely visited, but open to anyone who cares to stop by (you don't have to be religious, although it doesn't hurt if you are).
They are also inexpensive (much of the time); eager for customers (most of the time); and always hospitable (in keeping with the Rule of St. Benedict).
A Room with a Pew is not a guide book, but it will help you plan a monasteries journey of your own. Its tone is irreverent, often amusing, but always respectful and entertaining.
"If you have any inclination to try an offbeat way of seeing Spain, A Room with a Pew would give you some options. The authors do a good job of giving step-by-step advice about how to approach such a trip, and, given their degree of travel experience, it is most helpful advice." - Bookpleasures.com.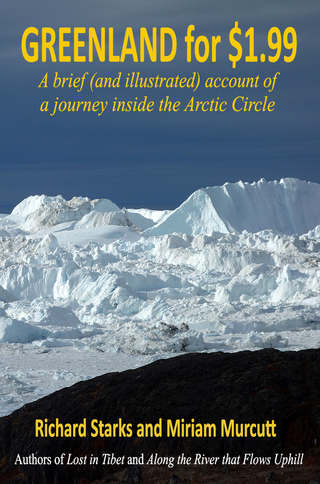 "GREAT BOOK, short and to the point…"—Amazon reviewer.
"I could feel the cold… Recommended…"—Goodreads reviewer.
"Great reading… Thankyou!" —German reviewer.
GREENLAND FOR $1.99 – a short e-book illustrated by more than twenty photographs – is the story of the two authors' journey inside the Arctic Circle.
It serves as an excellent introduction to a country that, in the past, has been rarely visited, but is now becoming more popular.
You can walk with the authors over the Greenland ice cap, touch the world's biggest and fastest-moving glacier, and hike along the Arctic Circle Trail.
You can also hear sled-dogs yowl, and watch whales surface near drifting icebergs, as well as listen to the Inuit talk about the future of their country – all for less than the price of a cup of coffee.
"Greenland for $1.99 is part travel log and part history lesson nicely mixed together. I highly recommend it." - Megan Ricard, Amazon reviewer.